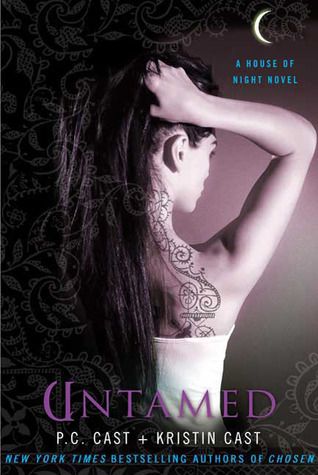 Synopsis:
Life sucks when your friends are pissed at you. Just ask Zoey Redbird – she's become an expert on suckiness. In one week she has gone from having three boyfriends to having none, and from having a close group of friends who trusted and supported her, to being an outcast. Speaking of friends, the only two Zoey has left are undead and unMarked. And Neferet has declared war on humans, which Zoey knows in her heart is wrong. But will anyone listen to her? Zoey's adventures at vampyre finishing school take a wild and dangerous turn as loyalties are tested, shocking true intentions come to light, and an ancient evil is awakened in PC and Kristin Cast's spellbinding fourth House of Night novel.

The Nerd's Ramble:
Thank goodness for Untamed as it has started to redeem the series for me. After Chosen, I was seriously debating on not reading any further. Untamed picks up with the nerd herd still angry at Zoey. There's a new student, by the name of Jack Stark--who Zoey instantly is attracted to, which is rather annoying, considering she talks the entire book how she's not going to dwell on any boys and how Aphrodite is still rather 'ho-ish'. This really bothers me because Zoey can't seem to function without thinking about any of the men/boys she's been with. Also, Damien and his boyfriend are adorable, don't get me wrong, but can we have them behave less stereotypically? I mean come on.
Thankfully, those are simply blips of thought, and the occasional internal whining. The plot really picks up in this book. I really love how the Casts manage to weave Cherokee legend, Christian theology and then the beliefs of the vampires to provide a lush and interesting cast.
I really like the last quarter of this book when the events hinted at in the previous two books start to come to fruition. Again, the blending of the legends is something that works well in the story's favor. I'm looking forward to reading the next part in this series.
Marked (House of Night #1)
Betrayed (House of Night #2)
Chosen (House of Night #3)
Rating:
★★★★☆
Total Length:
338 pages
Formats Available:
Kindle, Epub, Traditional, and audio cd.
Publication Date:
September 23, 2008 (St. Martin's Griffin)
Series Website: House of Night