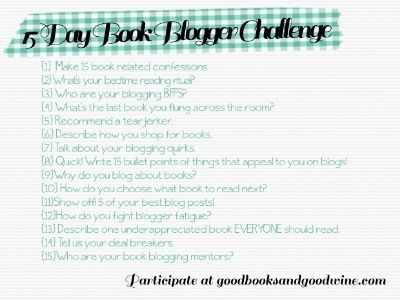 Day three of this challenge requires us to talk about our
Blogging BFFs. Admittedly, I'm new to blogging and networking and all of that goodness, so I'm going to link to a couple blogs that I really love, and you all should check out.


Link to the original challenge post can be found here: Good Books Good Wine Blog.
The first blog that I love is actually run by a friend that I started talking to on another blogging site (livejournal anyone?) and she would post entries about the books she's read each month and occasionally reviews. Earlier this year she started a blog, and I followed her. I really like her reviews, she's honest and fair and doesn't sugar coat things. She reads a little bit of everything.
Denise at Dandelionnwine
The second blog is run by Ms. A.R. Von. If you've followed this blog, you might recognize the name. She's the mind behind the Wunder series (which on a side note is awesome, go read it and enjoy). Her blog is a massive blend of generous giveaways, blog hops and reviews. A.R. sticks mainly with romance/erotica/paranormal genre. There are many things going on at this blog at one time. A.R. does weekly shorts, and has a contributing author posting fiction on the blog as well. It's highly entertaining, and there's plenty of things to read and look at.
A.R. Von at Dreamz of Dragons
I'll probably double up posts today, since I didn't have a lot of information for this one. Share some of your favorite blogs with me! I'd love to check them out.