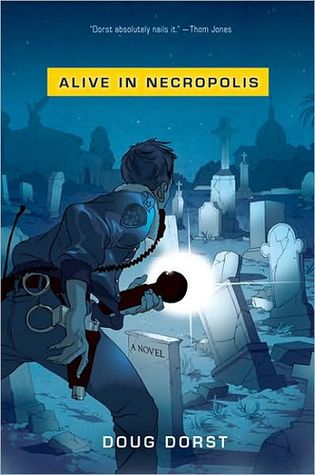 Synopsis:
Colma, California, is the only incorporated city in America where the dead outnumber the living. The longtime cemetery for San Francisco, it is the resting place of the likes of Joe DiMaggio, Wyatt Earp, and aviation pioneer Lincoln Beachey. It is also the home of Michael Mercer, a rookie cop trying to go by the book as he struggles to navigate a new realm of grownup relationships,including a shaky romance with an older woman; a growing alliance with his cocky, charismatic partner, Nick Toronto; fading college friendships; and an aching sense of responsibility for a local rich kid who Mercer rescues from a dangerous prank in the cemetery.

But instead of settling comfortably into adult life, Mercer becomes obsessed with the mysterious fate of his predecessor in the police unit, Sergeant Featherstone, who seems to have become confused about whether he was policing the living or the dead. And as Mercer delves deeper into Featherstone's story, it appears that Mercer's own sanity is beginning to slip, either that, or Colma's more famous residents are not resting in peace as they should be.

With all the playful sensitivity of Haruki Murakami and the haunted atmosphere of Paul Auster, but with a voice all his own, Doug Dorst has crafted an irresistible, compelling debut.

The Nerd's Ramble:
I had a really hard time getting through this book. The narration was in present tense, something that I don't enjoy-- and the narrative was split between four characters, and their stories that sometimes intersected.
It was interesting at times, but for me I dragged through this. I finished it simply because I can't leave a book unfinished. Overall? I wasn't too impressed with it as a whole. There were a few good scenes, and some good one liners but given the chance again I wouldn't pick it up.
Rating:
★★☆☆☆
Total Length:
437 pages
Format:
Epub, Kindle, Traditional
Publication Date:
July 17, 2008 (Riverhead Hardcover)